Mix 'N Match Results!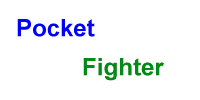 Well, it was our first contest, but I was amazed even to get two entries! In Mix 'N Match, you had to write a review of a non-existant game made from combining two existing games (here's a sample by JeffreyATW)! Now, I had to consult Ragnarok and JeffreyATW to judge this one, and after a close call, it was Arkrist Merkava who won!
Chop-Chop Master Onion sez: Ha, Merkava. Look what you are holding in your hand... a prize!
RUNNER UP: Phinal Phantasy Star 48
reviewed by Cap'n CAM
In another addition to the Final Fantasy series, PPS48 features a bunch of RockeT CanyoN references and neat gameplay features rolled into one of the biggest games of the year.
UNFORTUNATE ENTRY THAT DIDN'T MAKE IT: Poke-a-mon
reviewed by Ragnarok
In a first-person-ish poke-fest, Poke-a-mon stars a Jamaican who has a sick obsession with poking people! Unfortunately, it wasn't exactly a mix and match, so it didn't win.
Well, this was really a lot of fun--if only more people would ENTER next contest, it would be even better! Thanks to Ark CAM, and Rag for entering! They each recieved some cool prizes (well, Rag got one...).